Mind & Life Institute grants support rigorous research across a range of disciplines to investigate the human mind, as well as the psychological, physiological, behavioral, and social impact of contemplative practices. Since 2004, Mind & Life grantees have helped lay the foundations for the field of contemplative science, leading to groundbreaking insights in such areas as education and mental health.
We offer grant funding mechanisms to support the work of both prominent scholars and promising young investigators. These currently include the Francisco J. Varela Grants and the PEACE Grants. See our recently awarded grants and our full grant history for past grant recipients.
With humanity more divided than ever, our grantmaking increasingly seeks to bridge contemplation, research, and action to cultivate inner knowing and strengthen awareness of interconnection. Through our support of research-practice partnerships, we seek to promote the application of shared knowledge to real-world challenges.
**Please note that Mind & Life does not accept unsolicited proposals
---
Research Values and Ethics
Mind & Life grantmaking reflects our values and the premium we place on scientific rigor. The mainstreaming of mindfulness within popular culture has resulted in misleading claims about its benefits. Our research focus adheres to high standards of excellence and the pursuit of a solid evidence base.
While historically, contemplative research has been dominated by a largely racially and ethnically homogenous group of scientists, scholars, and practitioners, our grantmaking is guided by the principles of diversity, equity and inclusion. We recognize that to truly understand the human mind and the impact of contemplative practices, it must be through an inclusive approach that integrates diverse perspectives and experiences.
---
Impact of Mind & Life grants
Since 2004, Mind & Life has awarded more than $6.5 million to over 290 projects in 31 US states and in 21 countries. As a result, our grantees have gone on to compete successfully for over $130 million in follow-on grant funding from other sources.
Follow-on funding estimate last calculated December 2020.
Where are our funded projects?
Mind & Life is pleased to have supported contemplative research and think tanks through our grants programs. To date we have funded projects in 30 US states and in 20 countries, across 6 continents. Click any pin in the map below to learn more about each project.
Meet our grantees
Read more about some of the impactful projects funded by Mind & Life:
Helen Weng (Varela Grants, PEACE Grant): Using Science to Spread a Message of Compassion, Equity, and Inclusion
Eric Garland (Varela Grant): How One Scientist is Using Mindfulness to Transform Treatment for Pain and Addiction
Jennifer Mascaro (PEACE Grant): Cultivating Compassion in Healthcare: One Researcher's Journey
Juan Santoyo (Think Tank Grant): Seeding Peace in the Heart of Conflict: A Think Tank Project in Colombia
---
Types of Mind & Life Grants
Varela Grants
Varela Grants fund rigorous examinations of contemplative techniques to provide greater insight into their application for reducing human suffering and promoting flourishing. Grants of $20,000 are awarded annually to junior researchers and scholars who have attended the Mind & Life Summer Research Institute.
PEACE Grants
PEACE Grants (of either $25,000 or $100,000) support research that examines wholesome mental qualities such as Prosociality, Empathy, Altruism, Compassion, and Ethics (PEACE) to effect change. Among these, the Samuel B. Hanser Visionary Grant funds research into the effects and mechanisms of contemplative practices on the body, mind, and spirit.
Contemplative Changemaking Grants
The Contemplative Changemaking Grants (up to $10,000) will fund small-scale, impact-oriented work undertaken by individuals, community workers, and non-profit organizations that use or ground themselves in contemplative practices to achieve real impact in people's everyday lives.
Think Tanks (not available in 2022)
Think Tanks are self-organized gatherings designed to foster insight and inspire action around an area of inquiry that bridge contemplation, research, and action. Small groups—of scientists, scholars, changemakers, contemplative practitioners, and applied professionals—convene to workshop a topic with well-defined outcomes and potentially high impact.
---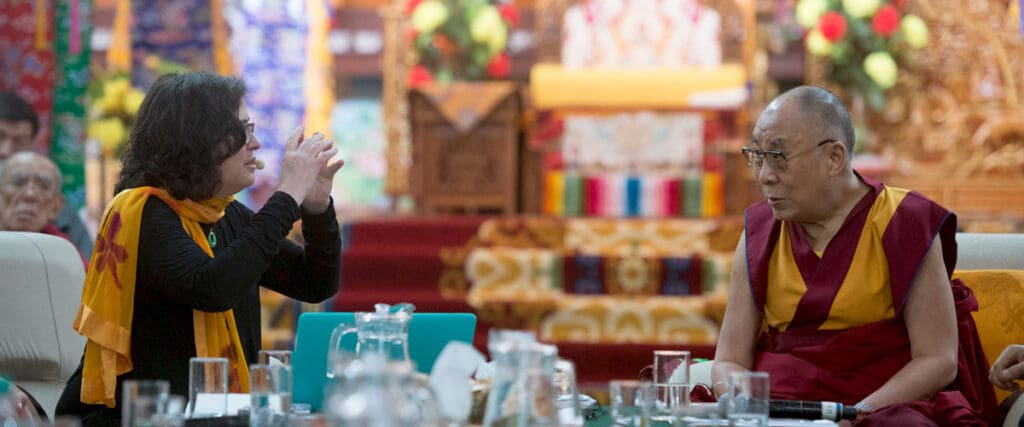 Awards
Mind & Life also awards multiple distinctions on an annual or biennial basis: the Catherine Kerr Award for Courageous and Compassionate Science and the Mind & Life Service Award.
Legacy Grants and Funding
Mind & Life grants and funding have catalyzed the interdisciplinary field of contemplative science, sparking an exponential increase in related academic research and helping launch the careers of promising young investigators.