Program Planning Committee (PPC)
Nilanjana Dasgupta
University of Massachusetts-Amherst
Co-Chair of Program Planning Committee
Nilanjana (Buju) Dasgupta, is Provost Professor of Psychology and the Director of the Institute of Diversity Sciences at the University of Massachusetts–Amherst. Her research is on implicit bias. Whereas past work had assumed that implicit bias is learned early in life and difficult to change, her research shows that such bias can be changed given the right social context. Recently, her work focuses on how implicit gender bias about science and engineering shakes the confidence of women and students of color in STEM. She identifies learning environments that foster social connection, inoculates students against negative stereotypes, and promotes their confidence, persistence and success in STEM. This work has been supported by grants from the NSF and NIH. She spends a good bit of time disseminating this research to broad audiences including K-12 teachers and administrators, university faculty and campus leaders, tech entrepreneurs, federal and state policy-makers, lawyers, judges, and legal scholars. Buju is a Mind & Life Fellow, and member of Mind & Life's Steering Council.
David DeSteno
Professor at Northeastern University
Co-Chair of Program Planning Committee
David DeSteno is a professor of psychology at Northeastern University. At the broadest level, his work examines the mechanisms of the mind that shape vice and virtue. Studying honesty and compassion, altruism and punishment, cooperation and trust, his work continually reveals the forces that underlie moral behavior. David is a fellow of the Association for Psychological Science and the American Psychological Association, for which he served as editor-in-chief of the journal Emotion. His work has been repeatedly funded by the National Science Foundation and the John Templeton Foundation. He is the author of several books, including most recently "How God Works: The Science Behind the Benefits of Religion." He frequently writes about his work for major publications including The New York Times, The Atlantic, The Wall Street Journal, The Washington Post, and Harvard Business Review. He also hosts the PRX podcast How God Works: The Science Behind Spirituality. David received his Ph.D. in psychology from Yale University.
Reginald Hubbard
Active Peace Yoga
Program Planning Committee Member
Reginald "Reggie" Hubbard, embarked on his yoga journey in 2014, seeking solace amidst professional challenges. Now a 500-hour certified yoga teacher, he studied with renowned mentors like Faith Hunter, Amy Ippoliti, Yogarupa Rod Stryker, and Sri Dharma Mittra. Reggie shares his teachings with Members of Congress, progressive organizations, and individuals, emphasizing peace and inclusivity. Advocating for diversity in the wellness industry, he advises yoga communities and studios. Beyond yoga, Reggie has held strategic roles in global marketing, government relations, and education. He presently serves on the Global Compassion Initiative, BOD. He has served as a senior political strategist for a leading progressive organization, fostering transformative change. Reggie holds a B.A. in philosophy from Yale and an MBA from Vlerick Business School. Reggie has been a presenter in the Mind & Life online Inspiring Mind's series.
Jenny Mascaro
Associate Professor, Emory University School of Medicine
Program Planning Committee Member
Jenny Mascaro is an applied biological anthropologist whose research focuses on investigating the impact of mindfulness and compassion meditation practices on the well-being, compassion, and health of both hospitalized patients and their healthcare providers. Her research approach incorporates a mix of methods, such as ambulatory assessment of linguistic behavior, functional and structural neuroimaging, as well as clinical and psychosocial evaluations. Jenny's work also delves into implementation science, aiming to systematically identify and assess innovative avenues for integrating well-being practices within hospital medicine. Beyond her professional pursuits, she finds joy in gardening alongside her dogs and chickens, cooking, hiking, and engaging in sports with her children. Jenny is a Mind & Life Fellow, has served as a reviewer for Mind & Life grants, and currently services as the Science and Grants Consultant for Mind & Life.
Malena Price
Clinical Psychology PhD Candidate, University of Miami
Program Planning Committee Member
Malena Price is a fourth-year Clinical Psychology PhD student at the University of Miami studying the impacts of mindfulness training on psychological health outcomes, such as anxiety, depression, and PTSD. She is currently completing a practicum position at Galen Hope Mental Health where she supports the psychological recovery of patients living with eating disorders and complex co-occurring conditions. Prior to beginning her doctorate, Malena completed a Fulbright Research Grant in Amman, Jordan where she provided psychosocial support to Sudanese refugees seeking asylum there. After she completes her doctoral studies, Malena will work for a humanitarian organization bringing evidence-based psychological services to individuals suffering from acute psychological symptoms in crisis settings. Malena is also a 300-hour Registered Yoga Teacher, a proficient Arabic speaker, and a mindfulness practitioner. Malena serves on Mind & Life's first Young Adult Advisory Council.
---
Contemplative Faculty
Larry Ward
Executive director of The Lotus Institute
Author of America's Racial Karma
Senior Dharma teacher
Dr. Larry Ward is the co-founder of The Lotus Institute, a senior teacher in Zen Master Thich Nhat Hanh's Plum Village tradition of Engaged Buddhism, the author of America's Racial Karma, and host of the Beyond the News podcast. Dr. Ward holds a PhD in Religious Studies with an emphasis on Buddhism and the neuroscience of meditation. As a teacher, Larry interweaves insights with personal stories and resounding clarity that express his Dharma name, "True Great Sound."
Peggy Rowe-Ward
Founder and Director of The Lotus Institute
Peggy's joyful spirit enables her students to discover and embody their most creative and authentic selves. She offers a path of deep insight through methods such as movement, writing, art and ritual.
Peggy has her EdD in Adult Education and her M.A. in Counseling Psychology and co-author with her husband, Larry, of Love's Garden: A Guide To Mindful Relationships. She has taught in graduate schools of social work, psychology and counseling psychology. Her Doctoral research is in dreamwork. She has had a private therapy practice for many years and now offers consultations with a spiritual direction focus.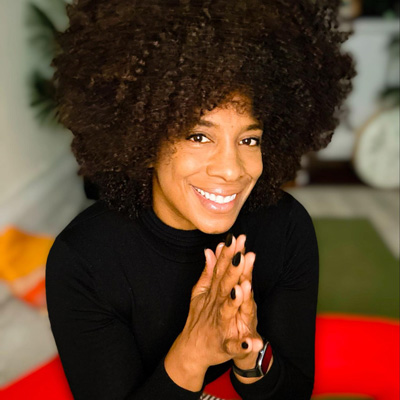 Oneika Mays
Oneika Mays is a multi-hyphenate facilitator who leads with joy, passion, and wisdom. She is a grounded leader with lived experience that centers on mindfulness and transformation.
As a Black, queer feminist she brings a poignant lens to building a world that is more compassionate and understanding. With deep roots and knowledge in Buddhist and yogic teachings, Oneika delivers practical application and authentic connection through her facilitation skills.
She transitioned to yoga and meditation from a career in corporate retail over 10 years ago. Oneika used that experience to support social justice non-profits and teach meditation and yoga inside jails. Today, she is the first Mindfulness Coach at Rikers Island Correctional Facility. At Rikers she works one-on-one with community members in a therapeutic/medical setting. Sessions are a combination of modalities and are infused with compassion. These sessions are meant to help people foster resilience and agency. She believes that our justice system needs to focus on transformation and restoration rather than punishment. This idea of liberation and compassion is woven into her work whether it's in a jail or teaching yoga. In addition to teaching yoga Oneika facilitates workshops, training and retreats centered around resilience, liberation and compassion around the country. She believes that meditation, movement and mindfulness practices can forge a path to freedom.
Peter Wayne
Assistant Professor of Medicine,
Harvard University
Peter Wayne, PhD, is a researcher, practitioner, and instructor of mind-body and integrative therapies. He is the Bernard Osher Associate Professor of Medicine in the Field of Complementary and Integrative Medical Therapies, Harvard Medical School (HMS) and Director for the Osher Center for Integrative Medicine, jointly based HMS and Brigham and Women's Hospital. He also founded and directs the Mind-Body-Movement Research Laboratory based at the Osher Center. The primary focus of Dr. Wayne's research is evaluating how complementary and integrative therapies clinically impact aging and chronic health conditions, and understanding the physiological and psychological mechanisms underlying observed therapeutic effects. Peter also has more than 40 years of training experience in Tai Chi and Qigong and is an internationally recognized teacher of these practices. He is author of the Harvard Medical School Guide to Tai Chi, which received an Award of Excellence in Medical Communication by the American Medical Writers Association. Peter is a Mind & Life Fellow and has presented at many Mind & Life Conferences.
---
Plenary Faculty and Discussants
Jamie Bristow
Co-director of The Mindfulness Initiative
Jamie Bristow is Co-director of The Mindfulness Initiative, a policy institute about mindfulness and compassion training that grew out of a program of mindfulness teaching for politicians in the British Parliament. After supporting UK politicians to establish the UK Mindfulness All-Party Parliamentary Group and conduct a policy inquiry throughout 2014, Jamie took over as Director in 2015 to launch the seminal Mindful Nation UK report. He has since grown the Mindfulness Initiative into an influential policy institute, authoring and producing a series of publications and working with decision-makers around the world to integrate inner capacities and contemplative practice into politics and the public policy landscape. Jamie was formerly Business Development Director for Headspace and has a background in psychology, climate change campaign communications and advertising. He is also a teacher of Insight Meditation, a Buddhist tradition that's associated with Gaia House, IMS and Spirit Rock retreat centers. Jaime has been featured on the Mind & Life podcast.
Molly Crockett
Associate Professor,
Princeton University
Molly Crockett is an Associate Professor at Princeton University in the Department of Psychology and University Center for Human Values. Prior to joining Princeton, they were on faculty at Yale University and University of Oxford. Dr. Crockett's research integrates theory and methods from psychology, neuroscience, economics, philosophy, and data science to investigate moral cognition: how people decide whether to help or harm, punish or forgive, trust or condemn. Outside the lab, Dr. Crockett is a practitioner and teacher of Buddhist meditation in the Samatha tradition. Molly is a Mind & Life Fellow and presented at the 2022 MLI Conversation in Dharamsala, India.
Tyralynn Frazier
Associate Research Scientist,
Emory University
Tyralynn Frazier is lead scientist for The SEE Learning Compassion Lab at Emory University's Center for Contemplative Science and Compassion-Based Ethics. In this role, she has developed a research program on the global implementation of SEE Learning and basic research on the science of compassion, ethics, and prosocial development throughout human development. Tyralynn has worked with international researchers, school leaders, and non-profit organizations to support the development of compassion-based education research worldwide. Through these relationships, evidence-based program planning has been done to help schools and school systems create spaces of increased compassionate engagement. Tyralynn is a Mind & Life PEACE grantee, and has served as a grant reviewer
Sará King
Neuroscientist
Founder, MindHeart Collective
Dr. Sará King is a Mother, neuroscientist, political and learning scientist, education philosopher, social-entrepreneur, public speaker, and certified yoga and mindfulness meditation instructor. She is currently a post-doctoral fellow in Neurology at OHSU in the Oregon Center for Complimentary and Alternative Medicine in Neurological Disorders, a Garrison Institute Fellow and a member of Google's well-being think tank "Vitality Lab". She is also the founder of MindHeart Consulting, a neuroscience consulting firm through which she offers up "The Science of Social Justice" framework and the "Systems Based Awareness Map" (SBAM) both of which she created to explore our capacity to heal intergenerational trauma and promote the well-being of "collective nervous systems" in partnership with the Museum of Modern Art in N.Y. She is also one of the Co-Directors of Mobius, an organization creating a home for liberatory technology. In 2021, she was named "One-To-Watch" by Mindful Magazine, as well as she made the November cover of Yoga Journal Magazine as a "Game Changer" for her work bridging neuroscience, social justice and contemplative practices. In 2022, she was also named one of the "10 Most Powerful Women in Mindfulness" by Mindful Magazine.
James Kirby
Associate Professor, Clinical Psychologist,
Co-Director of the Compassionate Mind Research Group at the University of Queensland
James N. Kirby, Ph.D., is an Associate Professor, Clinical Psychologist, and the Co-Director of the Compassionate Mind Research Group at the University of Queensland. He has broad research interests in compassion, but specifically examines factors that facilitate and inhibit compassionate responding. He also examines the clinical effectiveness of compassion focused interventions. James holds a Visiting Fellowship at the Center for Compassion and Altruism Research and Education at Stanford University. In 2022 he authored Choose Compassion. James is a Mind & Life Fellow and PEACE grantee.